Hearing Checks
Now get your hearing checked as well as your vision!
Hearing loss can happen for many reasons, and we encourage people to take care of their hearing as we understand the difficulties and isolation that hearing loss can bring. Hearing loss is very common, especially in patients over 55 years old.
You may not be aware that you are suffering from hearing loss, which is why it is important to have your hearing and ears checked regularly. Do you find yourself having more difficulty hearing during conversations with friends and family? Or, needing to turn up the volume on the television?
Hearing loss is easier to correct if it is caught early, though the damage can never be reversed. Since hearing loss can be slowed down you may want to take advantage of getting a hearing check, now provided at our practice.
Your Experienced Audiologist, Dr. Kristen Handal
Dr. Handal, our audiology partner, has a doctorate from Montclair State University and is licensed by the state of New Jersey to practice audiology and fit hearing aids. She is committed to providing her patients with excellent hearing care by following best practices and a patient first approach. She will assess every detail of your hearing concerns and make recommendations for tailored hearing loss solutions if they are needed.
She offers a range of the very latest technology in hearing devices, from the world's leading manufacturers, and offers a full aftercare program for continued care for your hearing health to ensure you get optimal performance from your hearing aids.
Book Your Hearing Check Today
If you have concerns about your hearing, it's easy to put your mind at ease. Just get in touch to book a hearing check and Dr. Handal will test your hearing, discuss any concerns you may have about your hearing health, and make suggestions on hearing solutions, if needed.
Call us today at 973-427-7801 to book an appointment with Dr. Kristen Handal.
---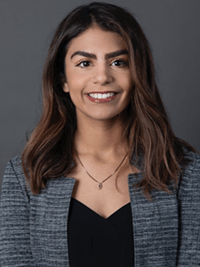 Kristen Handal, Au.D., CCC-A, graduated from Ithaca College with her Bachelors degree in Speech Language Pathology and Audiology. She then continued on to Montclair State University where she earned her Doctorate in Audiology.
Dr. Handal completed her residency at Columbia University Irving Medical Center in Manhattan. While at Columbia, she completed research evaluating sound localization and speech understanding in the operating room setting.
Dr. Handal is board certified through the American Speech-Language-Hearing Association (ASHA), and specializes in evaluation and treatment of both adult and pediatric patients. She is committed to providing her patients with excellent hearing care by following best practices and a patient first approach. In her free time, Dr. Handal enjoys walks with her dog, Indie, and spending time with family and friends.
Dr. Handal's clinical experience includes Morristown Medical Center; Hackensack University Medical Center; the Veterans Administration of East Orange; Weill Cornell Medicine, Columbia University Irving Medical Center, HearingLife – Westfield, and HearingLife – Edison.